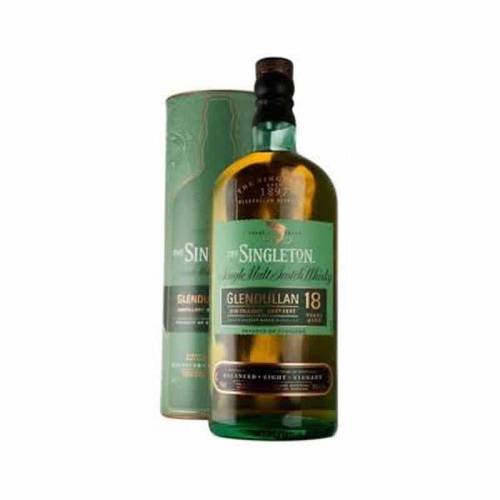 The Singleton Scotch Single Malt 18 Year Old - 750ML
The driest and most mature malt in the Singleton of stable has a clear structure yet still retains its central core of sweet fruit. Light, rich and nutty.
18 year old single malt from the The Singleton Single Malt Scotch whiskey distillery, presented in a 1 litre bottle and originally released for the Travel Retail market. A favourite of blenders and indie bottlers, it's not often you get to see an official bottling of The Singleton Single Malt scotch whiskey – but it's always a delight when you do!New layers of flavor are revealed in the 18 year old, namely chocolate, which pairs beautifully with that banana and almond, which are common threads throughout the Glendullan experience. The Singleton Single Malt is sweeter expression than the 12 and 15, there are notes here of toasted marshmallow and honeycomb, with a gentle scorched wood — not quite smoky — element that wafts in and out. Here the finish ends squarely on the almond notes, a nutty and lasting character that is, surprisingly, the most gentle conclusion of all the whiskies in this range. A great price for an 18 year old spirit.The Singleton is a family of three Scottish whisky distilleries; one of which is Glendullan, that was founded in 1897 and is located in Dufftown, in the Speyside region of Scotland. This 18 Year expression, along with its younger sibs (a 15 and a 12 year), landed Stateside sometime in late 2016. Mostly ex-bourbon American oak barrels were utilized for maturation. It is bottled at 40% ABV.

Nose: Nutella, sultana and honey, with hints of fresh green apple in the background.
Palate: Coconut ice, lemon peel, drying oak and cassia spiciness.
Finish: Peppery malt and more mature oak finishes this one off.