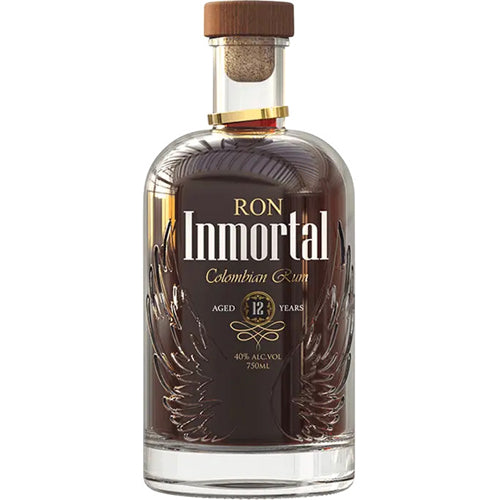 Ron Inmortal Colombian Rum 750ml
Colombia is a land of natural wonders, immense beauty, genuine hospitality, and of course world-class rum. This is our home, where Ron INMORTAL was born, and where we proudly handcraft our high-quality, ultra-premium spirit.
Ron INMORTAL is distilled, aged and bottled in the port city of Barranquilla, in the northern part of Colombia. Located near the Caribbean Sea, at the delta of the Magdalena River, the city is the cultural center of Colombia's Caribbean Region, and the tropical climate there provides ideal conditions for rum production.
Our rum is handcrafted from fine sugar cane molasses and honeys, meticulously fermented and then column distilled and blended. The next step is aging, where the magic truly happens - Ron INMORTAL is painstakingly matured for 12 years in used American white oak barrels to impart a naturally rich aroma and deliciously smooth flavor notes of vanilla, peach and citrus. Ron INMORTAL derives its signature taste from this traditional and careful aging process - never from artificial additives.
Ron INMORTAL is presented in an elegant and distinctive bottle, etched with angels' wings (angels are immortal, powerful and divine!), and features a removeable keepsake ring around the bottle neck.
Discover and taste Colombia's rich cultural heritage and tradition of fine rum-making in every bottle of Ron INMORTAL.