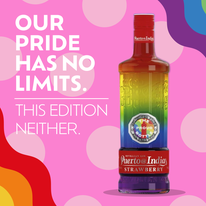 Puerto De Indias Strawberry The Proud Bottle Gin 750 ml
The production of Puerto de Indias Strawberry begins with a twice distilled neutral spirit base. Ripe strawberries from the nearby Huelva region are macerated for 48 hours in alcohol before being distilled. This process removes the color however retains the natural flavors and aroma of the berry fruit. 
Each of the gin's other botanicals which includes juniper and orange peel are then separately distilled on the estate's original 1880s olive wood-fired copper still and blended along with the strawberry distillate. Lastly, a small amount of the macerated strawberries are added to the gin for its natural pink color.
Key Ingredients: Spanish strawberries, juniper, coriander, lime, grapefruit, orange, lemon peel, natural spring water