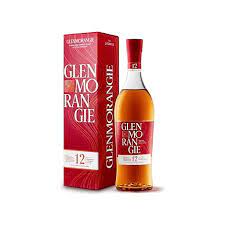 Glenmorangie Scotch Single Malt 12 Year Lasanta - 750ML
Glenmorangie Lasanta is an elegant and full-bodied single malt whisky that has been extra matured in Spanish Oloroso Sherry casks after a minimum of 10 years in ex-bourbon casks. Its luscious, soft mouth filling texture, and its deep, enticing, sweet aroma appeals to luxury spirit drinkers who like to experiment, and whose confident choices, warmth and passion inspire the mood of the group. Non chill-filtered and with an ABV of 46%, its key flavour notes are of toffee, raisins and walnuts.

Aroma: Like the most delicious dessert menu imaginable, Lasanta taunts the senses with chocolate covered raisins, honeycomb and smooth caramel toffee. Citrus notes clear the way for the crispy burnt sugar and melting softness of crème brulee to be replaced by the rich aroma of rum and raisin ice cream

Taste: The full, sweet flavour typical of Spanish sherry with sultanas, orange segments, walnuts and butter toffee. Finish: Satisfyingly long with spiced orange and chocolate enrobed hazelnuts.