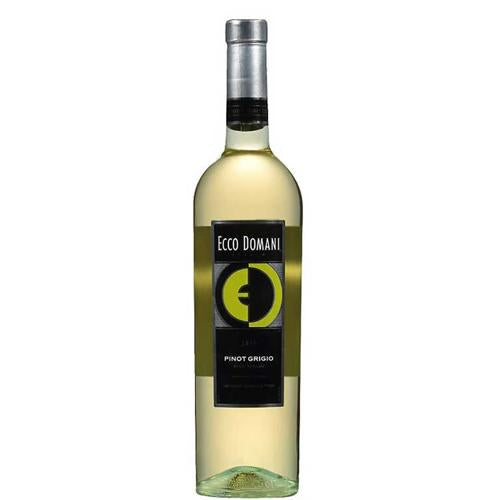 Ecco Domani Pinot Grigio - 750ML
Description:
Ecco Domani translates to "Here's tomorrow" in Italian, reflecting our forward-thinking approach and contemporary wine style. We choose our grapes from the regions where they grow best, which allows us to create authentic Italian wines with bright fruit flavors. Our Pinot Grigio is made with fruit from the celebrated regions of the Tre Venezie: Trentino-Alto Adige, Veneto and Friuli-Venezia Giulia.

About the delle Venezie IGT:
The three regions of Trentino-Alto Adige, Friuli-Venezia Giulia and Veneto encompass the delle Venezie IGT in northeastern Italy. This high altitude region is ideally suited to producing crisp, elegant Pinot Grigio grapes.
Winemaking Notes:
The grapes for this wine were gently crushed and pressed, and the juice was allowed to cold settle prior to fermentation, which occurred in upright stainless steel tanks for three weeks at an average temperature of 64°F. The wine was aged sur lie for two months and then on light lees until bottling to preserve a clean and full mouthfeel. A small amount of Chardonnay was blended in to impart a natural acidic freshness.
Wine Description:
Is pale straw in hue and has delicate floral aromas with a hint of citrus. On the palate, the wine offers tropical fruit flavors and a crisp, refreshing finish.