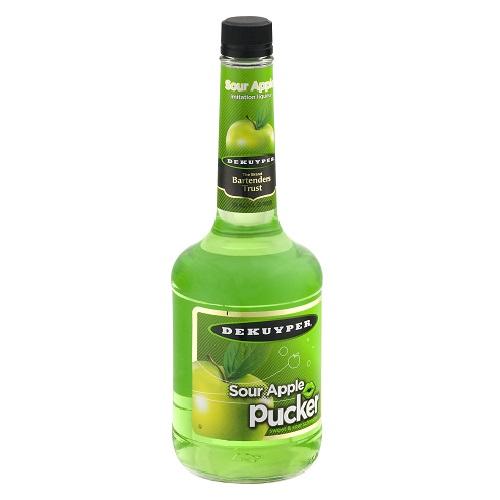 Dekuyper Sour Apple Pucker - 750ML
DeKuyper is the #1-selling line of domestic cordials featuring nearly 60 mixable and versatile flavors of cordials, liqueurs, cremes, brandies and schnapps. Some DeKuyper flavors have inspired the creation of cocktails and are now synonymous with those drinks. For example, in the mid-80s DeKuyper Peachtree Schnapps inspired the creation of the Fuzzy Navel, and in the mid-90s DeKuyper Pucker Sour Apple Schnapps inspired the creation of the Appletini.

DeKuyper was founded in Holland in 1695 by Johannes DeKuyper & Son and has been the brand to turn to for fresh and original liqueurs for more than 300 years.

Premium Dekuyper liqueur infused with all natural, intense apple flavors. The nose is of juicy sour apples, while the nose is packed with mouth watering sweet and sour apple flavor. Perfect for mixing.