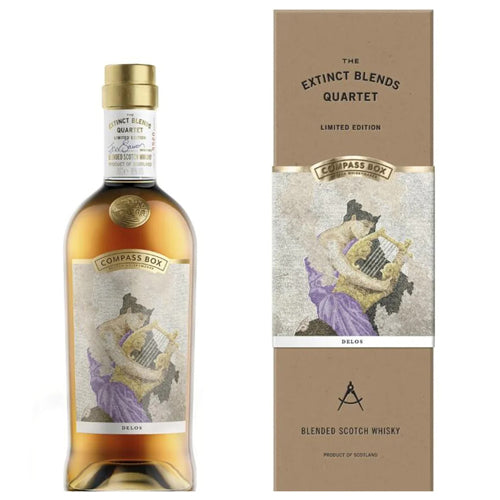 Compass Box Delos Blended Limited Edition Scotch Whisky - 750ML
The second release in the limited-edition Extinct Blends Quartet series. Delos takes its name from a Greek island said to be the birthplace of the god Apollo. To recreate Asyla's "vibrancy and soothing sweetness" in the new expression, Compass Box's whisky-making team delved into some of the older and rarer liquid from their stocks. The final blend of grain and malt whiskies includes spirit from the Glen Elgin, Imperial, and Miltonduff distilleries, all aged in American oak barrels. Only 5,520 bottles are made available worldwide.
Its art label features a lute player first depicted on the original Asyla label, who has been reimagined in mosaic form and her flute replaced with a lyre, an instrument classically associated with Apollo.