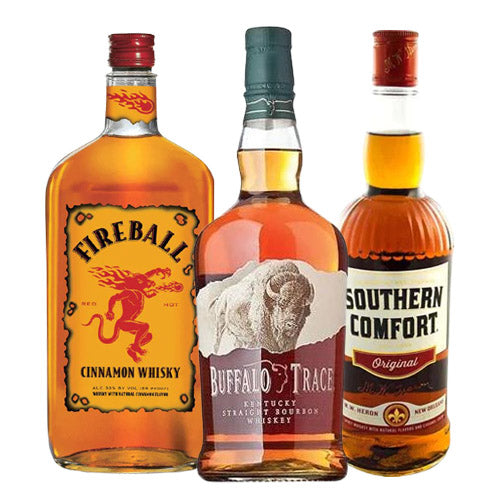 Buffalo Trace Bourbon, Fireball Cinnamon Whiskey, Southern Comfort Original Whiskey Bundle
This Bundle Included 
1 Buffalo Trace Bourbon - 750ML
1 Fireball Cinnamon Whiskey 750ml

1 Southern Comfort Original Whiskey 70 Proof - 750ml
Buffalo Trace Kentucky Straight Bourbon Whiskey is distilled, aged and bottled at the most award-winning distillery in the world. Made from the finest corn, rye and barley malt, this whiskey ages in new oak barrels for years in century old warehouses until the peak of maturity. The taste is rich and complex, with hints of vanilla, toffee and candied fruit. The smooth finish lingers on the palate. This will never change.
Fireball is made with Canadian whisky and natural cinnamon flavours. It's certainly very cinnamon-y (if that's a word), and it's not too sweet, which is a plus. A very popular shot drink on the other side of the pond.
Tastes Like Heaven, BURNS LIKE HELL 
Southern Comfort is a fruit, spice, and whiskey flavored liqueur.