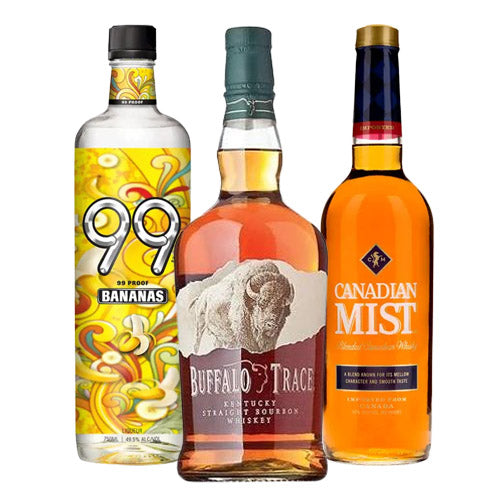 Buffalo Trace Bourbon, 99 Brand Bananas, Canadian Mist Canadian Whisky Bundle
This Bundle Included 
1 Buffalo Trace Bourbon - 750ML
1 99 Brand Bananas - 750ML
1 Canadian Mist Canadian Whisky 750ml
Buffalo Trace Kentucky Straight Bourbon Whiskey is distilled, aged and bottled at the most award-winning distillery in the world. Made from the finest corn, rye and barley malt, this whiskey ages in new oak barrels for years in century old warehouses until the peak of maturity. The taste is rich and complex, with hints of vanilla, toffee and candied fruit. The smooth finish lingers on the palate. This will never change.

99 proof banana-flavored schnapps. Smooth, refreshing, easy to drink, and most of all, FUN! With a powerful appeal that bar patrons across the country are asking for by name - straight up, in popular mixed drinks or in shooters. Distinctive packaging conveys the premium quality and breezy, colorful, irreverent attitude of our 99 proof schnapps.
Our Master Blender expertly combines our special recipe Grain and Rye Whiskies together, adding a touch of sherry from a neighboring vineyard for a delicate fruit note, ensuring a soft and mellow character pleasing to the most discernable palette.