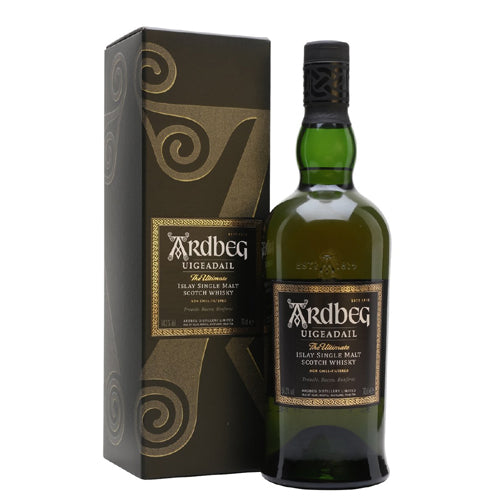 Ardbeg Scotch Single Malt Uigeadail - 750ML
A fine drop of Ardbeg bottled at cask strength. A marriage of Ardbeg from bourbon barrels and sherry butts which gives a sweet and smoky finish to this malt. Uigeadail is the loch from which all Ardbeg water flows. An absolutely stunning whisky, and following the demise of Airigh nam Beist, this probably represents the best value in the core range.
Nose: Multifaceted, notes of peat and little flourishes of dark sugar, freshly ground espresso beans, cereal notes and a most sophisticated tar.
Palate: Led by sweet, ripe fruit and black forest honey. A good helping of malt. The throne then usurped by a powerful peat and smoked barley.
Finish: Very long, caramel and malt weave their way through peat smoke and dark sugar and just a hint of fresh espresso coffee before it finally peters out.
Overall: Such deft balance! How wonderful to sample Ardbeg so beautifully complimented by sherry.