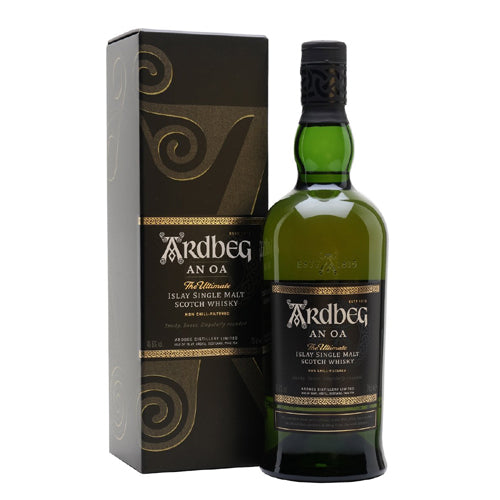 Ardbeg Scotch Single Malt An Oa - 750ML
The first addition to Ardbeg's ongoing range for a decade when introduced in 2017, An Oa is a combination of spirit aged in Pedro-Ximenez sherry casks and bourbon barrels. Married in a French-oak marrying vat, this is rounded and smoky with notes of toffee, aniseed, date and banana.
Nose: This sweet, creamy Ardbeg offers notes of butterscotch, fennel seed, tobacco leaf, Honey Nut Clusters and hints of mixed boiled sweets (fruit, Everton mint and menthol). The citrus notes are subtle and rich, coming through as flourless orange cake.
Palate: Still plenty of peaty oomph, although perhaps lighter in body. Notes of cigars and golden syrup flapjacks with sweet black tea on the tail and hints of chocolate limes.
Finish: Smoky treacle lingers with a little peanut brittle.