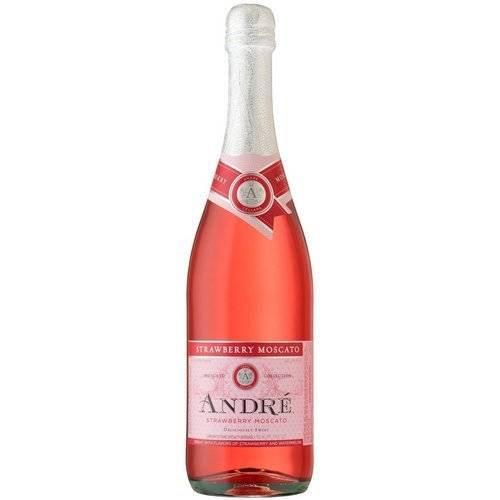 André Strawberry is a sweet California Champagne with juicy strawberry and pomegranate aromas with a crisp peach finish. Plus, its color catches sunlight in a way that can't help remind you of early spring.Andre Strawberry Moscato Sparkling Wine, 750 mL
Ingredients: Carbonated Water,  Dextrose, Fructose, Natural and Artificial Flavors, Grape Spirits, Less than 1% of: Potassium Citrate, Citric Acid, Potassium Sorbate, Sulfiting Agent, FD&C Red 40.

Instructions: Chill well before serving. Point bottle away from self and others. Instructions: Open: 1. Remove foil. 2 Firmly grasp metal top. 3. Keep hand on top and twist top until stopper pops from bottle. Reseal: 1. Push down on top firmly until it clicks twice. 2. Twist until tight.