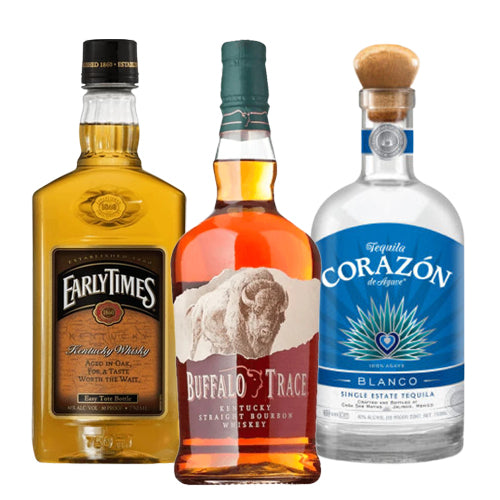 Buffalo Trace Bourbon, Early Times Kentucky Whisky, Corazon de Agave Tequila Bundle
This Bundle Included 
1 Buffalo Trace Bourbon - 750ML
1 Early Times Kentucky Whisky 750ML
1 Corazon de Agave Tequila Blanco 750ML
Buffalo Trace Kentucky Straight Bourbon Whiskey is distilled, aged and bottled at the most award-winning distillery in the world. Made from the finest corn, rye and barley malt, this whiskey ages in new oak barrels for years in century old warehouses until the peak of maturity. The taste is rich and complex, with hints of vanilla, toffee and candied fruit. The smooth finish lingers on the palate. This will never change.
Early Times is crafted from a traditional whisky mashbill, or recipe, of corn, rye and malted barley. Rye adds a spicy, lively character to whisky. Corn adds sweetness. Malted barley gives it a malty, cocoa, cereal taste. The Early Times mashbill contains more rye than many other whisky recipes. Only charred American white oak barrels are used to mature Early Times. Each barrel is toasted and charred so the new whisky can develop an even greater range of taste, aroma and characteristics. The toasting process sets up the rich vanilla flavor found in Early Times, while the charring process caramelizes the white oak's natural wood sugars into a layer of flavor we call "red layer."
Tempting, mellow and elegant agave flavor surrounded by a hint of cardomom and smokiness, subtle straw-like notes. Moderate body, earthy, mineral components, soft, creamy on the tongue with silky texture, light nutty tones. Warm, lingering, interesting spicy finish.