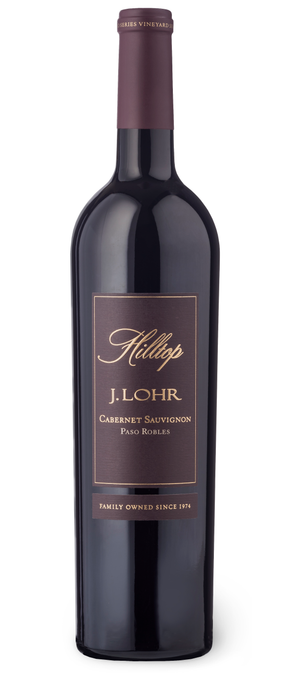 J. Lohr Cabernet Sauvignon Hilltop Paso Robles - 750ML
Our Hilltop Cabernet Sauvignon is primarily grown at three of J. Lohr's vineyards in Paso Robles. Approximately 60% is from our Shotwell Vineyard in the El Pomar District. The Beck Vineyard, located at a 1,700 elevation in the Creston District, supplies 25% of the fruit. The balance is from our Gean Ranch in the Adelaida District along with a collection of other small sites in the Paso Robles AVA. Blessed with long summer days of intense sunshine, our near 100°F daytime temperatures are followed by chilly, ocean-cooled nights in the 50s.
In 2018, generous rainfall returned following the 5-year drought in California. Budbreak occurred by the first week of April followed by bloom in the middle of May. Crop set was average at best, with overall yields under 3 tons per acre for our Hilltop blocks. An extreme heat event occurred in early September which brought temperatures as high as 115 degrees. Thankfully, our Cabernet crop was several weeks away from harvest and came through the heat spike unharmed. In this vintage, we saw a higher level of sugar and flavor ripeness than had been seen since the string of great vintages from '12 to '14. This new 2018 release also marks the debut of dramatic new packaging for our iconic Vineyard Series tier.
The 2018 J. Lohr Hiilltop Cabernet Sauvignon shows splendid ripe fruit, Cocoa powder, and graphite on the nose. The palate comes across dense chalky and soft, with layers of black currant, mineral, and notes of toasted pastry.